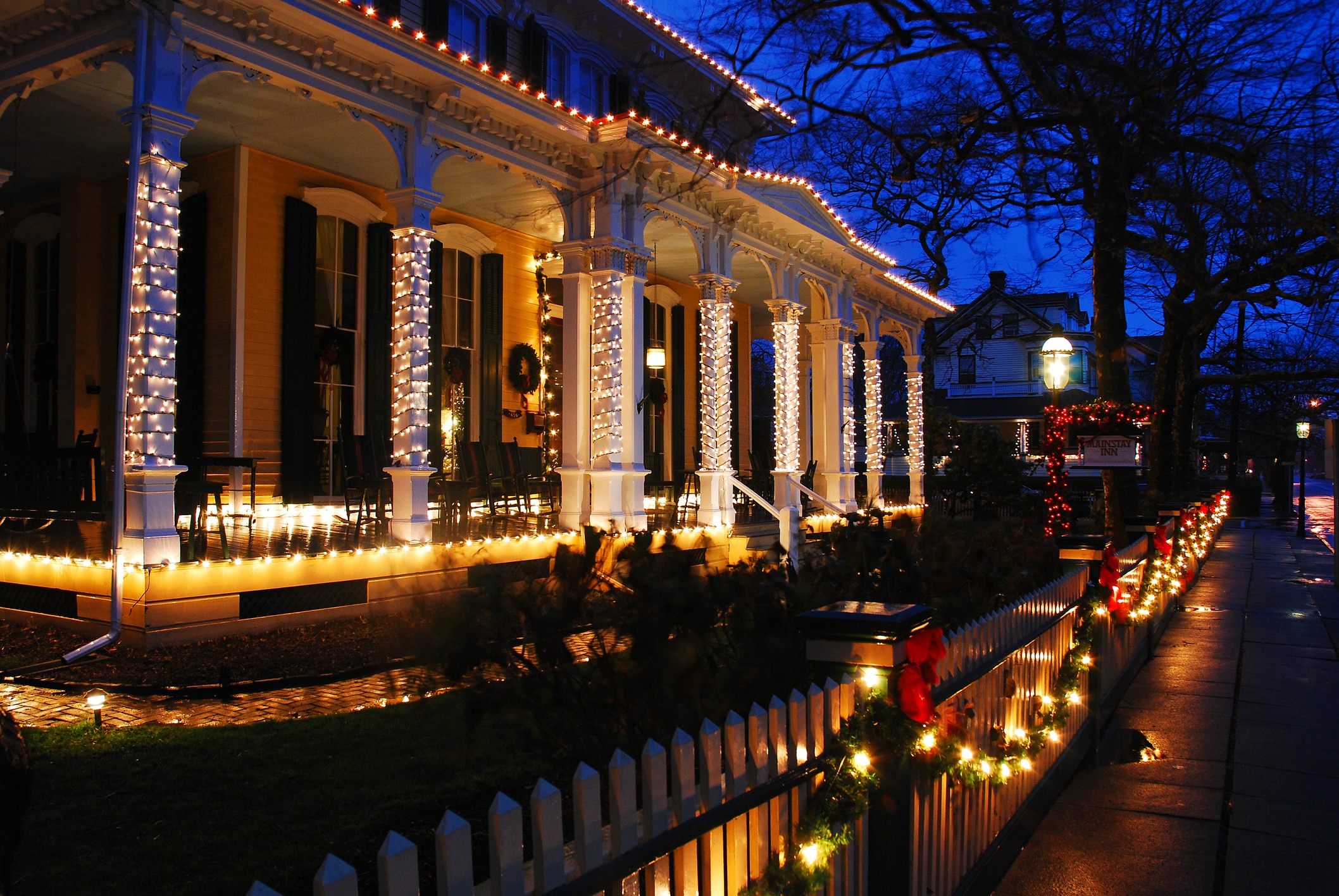 5 Christmas Light Safety Tips for Homeowners in Katy, TX
We're in the Christmas season, and nothing says it's the holidays like beautiful Christmas lights decorating your home. A neighborhood full of sparkling lights is a welcoming sight at the end of the day and a Christmas tree full of decorations is the perfect backdrop for drinking hot chocolate and eating cookies.  
With all the different ways to celebrate, it can be easy to just plug in your old lights and overlook proper safety precautions. But careless decorating can lead to shocks, cuts, falls, and other injuries even once your decorations are set up. The Consumer Product Safety Commission warns that holiday lights and decorations are responsible for an average of 12,500 injuries per year. 
Staying safe doesn't have to be a hassle. At Electric City, we're here to help with tips that make it easier than ever to stay safe this holiday season.   
How to Avoid the Dangers of Christmas Lighting
Keep Your Outlets Safe & Dry
Fires associated with Christmas decorations cause multiple deaths and injuries and millions in property damage every year according to the ESFI (Electrical Safety Foundation International).
Wet outlets are one of the most common problems that Katy homeowners face during the Christmas season. This year the Farmer's Almanac predicts rain and snow showers for the week of Christmas in our area, which means it's important to protect external outlets with outdoor electrical enclosures. An enclosure will help prevent outlets and devices (such as Christmas lights) from being damaged by water, wind, sunlight, and other natural elements. 
Additionally, damaged or non-GFCI outlets pose a risk of electrical shock. A licensed electrician can inspect your home's outlets for damage to ensure they are up to code and don't pose a fire hazard. With GFCI outlet repair or upgrades, your home will be ready for decorations in no time. 
Permanent GFCIs and outdoor electrical enclosures can be installed by a licensed electrical contractor and will benefit your home year-round. For more information about GFCIs and ensuring your home's electrical safety call Electric City. 
Follow Christmas Decoration Safety Guidelines
This year, make sure you're prepared and your family is safe with these outdoor lighting safety tips from Electric City. 
1. Indoor and outdoor lights aren't interchangeable
Knowing the difference between indoor and outdoor lights can be life-saving. Indoor lights are often safety tested for use with trees but they aren't designed for durability or outdoor weather conditions. Similarly, outdoor Christmas lights are designed to withstand wet and cold conditions, but may not be safe for use inside your home on your tree. Some Christmas lights may be safe for both conditions, but be sure to check the label and get rid of any lights you don't know the intended purpose of. 
2. Only use 3 light strands per outlet
Your circuit breaker has a limited number of amps it can handle, and using the outlet for too many strands at once can cause it to overdraw power. Sticking to a limit of 3 strands of lights per outlet is a good general rule that will avoid this problem and prevent damage to your electrical wiring. A power strip with a built-in circuit breaker can provide some added protection, but you should ensure that the power strip is rated for your intended use. 
3. Don't use old or broken lights
It may seem convenient to use the same strands of lights year after year, but every appliance has an end to its lifespan. When you pull your lights out of storage this year, check each set for damaged sockets, exposed wires, or loose connections, and throw them out if you notice these issues. It's much easier to replace a strand of lights than it is to repair your home after a fire. 
4. Don't leave your lights unattended or let them overheat 
You may enjoy leaving your lights on all night, but unmonitored lights can short out and start a fire. You can stay cozy and save yourself time and effort with tools like Christmas light timers or convenient remote controls. 
5. Don't use electric lights on a metallic tree
Electric lights and reflective metal may look pretty together but together they pose the risk of electric shock. If a fault occurs with the lighting, the entire tree can become charged with electricity, and anyone who touches it could be electrocuted.
Start the season off right with the necessary precautions and preventative measures that will keep your home safe from the hazards that Christmas decorations can pose. 
Stay Safe with Outlet Upgrades & Inspections
Regular home electrical maintenance will keep your family safe year-round, and upgrading daily-use items such as outlets or lighting fixtures will help prevent common household electrical fires. You can also ensure your outlets are functioning by contacting Electric City. Our team of licensed electricians will be happy to inspect your home's wiring and outlets for potential safety hazards. Reach out today to learn more. 
Electric City Keeps Your Holidays Bright
From Christmas to New Year's Eve, keep your holiday safe and fun with electrical services from Electric City. With same-day service, reliable care, and high-quality products, we're your best electrical contractors in Katy, TX. You and your family can rest easy knowing that Electric City is here to provide wiring replacement, whole home generators, and emergency electrical services with just a click or call. Contact us today and find out how we can help you prepare for the holiday season. 
Electric City: Your Home for Outlet & Electrical Wiring Services in Katy, TX
At Electric City, we bring expert electrical services to Katy, TX so that you can keep your home and family safe. We're here to provide quality workmanship with a lifetime warranty on everything we do. Stay safe this Christmas—call Electric City at 832-724-1781 and make your appointment to have one of our licensed electrical contractors sent out to you as soon as possible.