Pool and Hot Tub Wiring Services in Katy, TX
Keep your pool and hot tub "electrically" safe by ensuring the lighting and wiring are inspected and installed by a professional.
Pools and hot tubs can make great additions to your backyard for recreation, entertainment, and aesthetics. When installing these outdoor additions, it's important to make sure the electrical installation is handled by licensed professionals to avoid any safety risks. Call Electric City to make sure your pool or hot tub is safe, or to repair any wiring or electrical issues for your pool or hot tub at your home in Katy, TX. We guarantee 100% satisfaction to our customers!
Improve the Look of Your Yard by Adding New Lighting
Learn about our outdoor lighting services.
Wiring Issues You May Experience With Your Hot Tub
Wiring issues with your hot tub can pose serious threats to your family, including the risks of electrocution. Because of these dangers, it's important to have any wiring issues repaired by a professional as soon as possible. If you encounter any issues, you should call Electric City immediately for assistance. Some potential wiring issues you may encounter with your hot tub can include: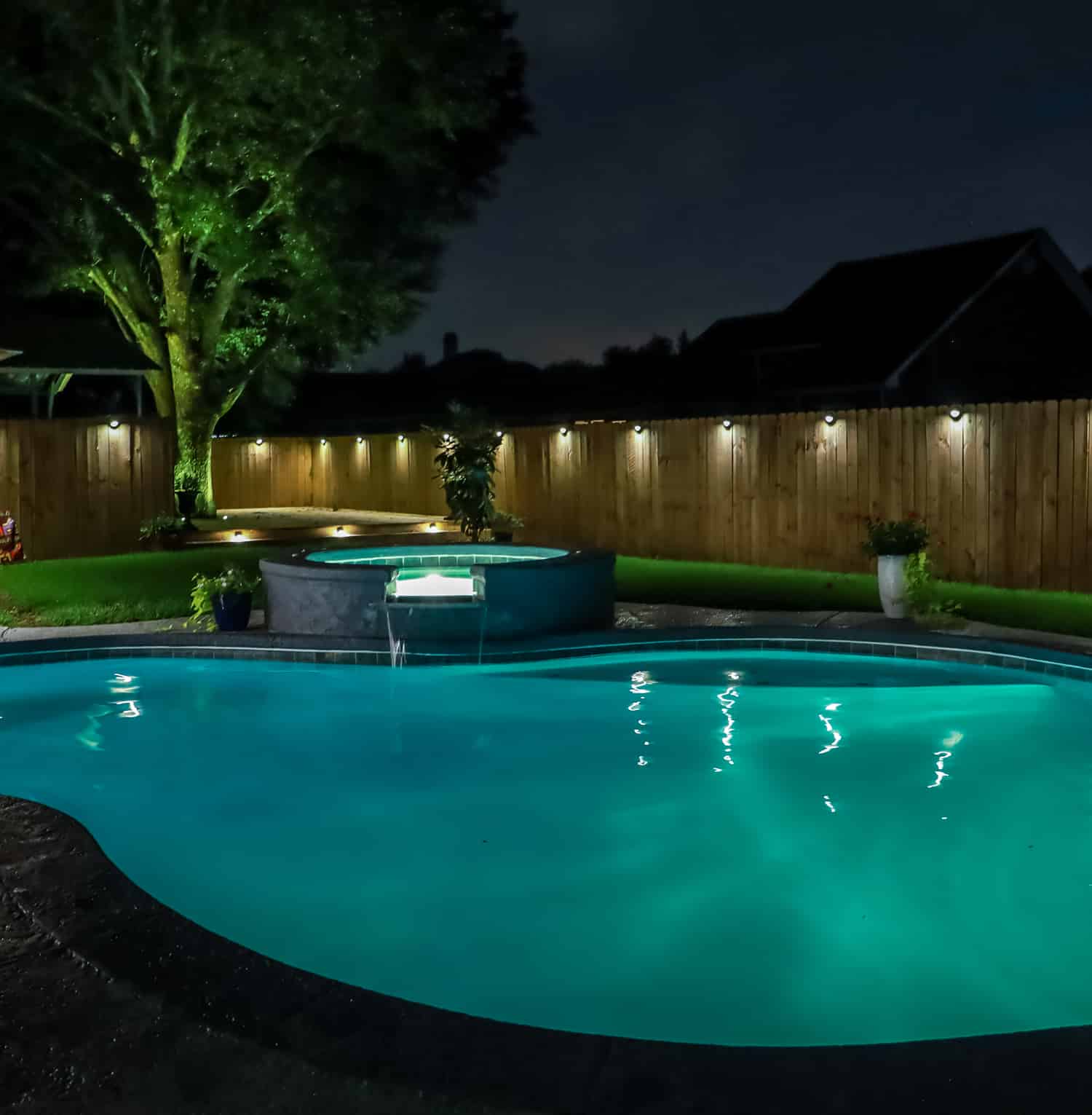 Why Install Pool Accent Lights
Your pool can be the main visual feature of your backyard. Make the most of your investment by enhancing its appearance with accent lights. These lights can focus on the pool itself, or accentuate features around the pool like a waterfall or stone wall. Use these lights to draw attention to areas you want to highlight (and take focus away from areas you don't)!
Some types of accent lights you might want to consider include floodlights, torchiere lamps, and wall sconces
Interested in Learning More About Our Total Care Club Membership?
Make Annual Maintenance a Breeze with our Total Care Club Membership
Benefits of Pool Security Lights
Your pool is a place for fun and an attractive feature in your backyard. This can be enhanced with low-voltage landscape lighting strategically placed around your pool, so you can enjoy your pool at night, too. Electric City can install low-voltage landscape lighting and back it up with a lifetime warranty! These lights can make high-risk areas like steps, walkways, and pool edges safer, and can make the pool area a more delightful ambiance. Two types of lighting to consider include: