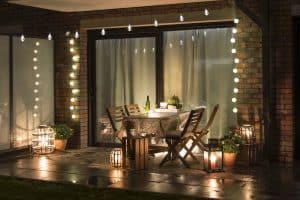 Summer is a great time to enjoy the weather and entertain guests outside. However, it's important to make sure that your patio is safe and ready for summer. When using electricity on your patio or anywhere else outside, electrical safety should be a top priority.
As you entertain and enjoy the great outdoors this summer, always remember that electricity is powerful and dangerous. For the utmost safety and maximum fun, Electric City brings you these top electrical safety tips. Keep your family safe all summer long by making electrical safety your top priority and following these safety tips.
Outdoor & Patio Lighting
Outdoor lighting is a great way to add beauty and functionality to your home. But with outdoor lighting comes the responsibility of making sure it's safe for you and your family. Electrical safety should always be top of mind when installing patio lighting, flood lights, string lights, or any other type of outdoor lighting.
It's essential to choose lighting fixtures that were designed to remain outdoors. An indoor lamp should never be plugged in where it can get damp or overheated. Look for waterproof and weather-resistant options when choosing your outdoor lighting fixtures. This includes choosing outdoor-rated light bulbs to place in your fixtures.
Overlamping (using a more powerful light bulb than the fixture suggests) can feed too much electricity into a fixture and lead to overheating. This can damage the wiring and even start a fire. Find the label that reads "maximum wattage," and ensure that you're allowing the right amount of electricity to run to the fixture. Also, be careful to plug in outdoor lighting far away from any flammable materials such as paper products, straw, gasoline cans, or other dry items.
Generators
Generators are extremely useful for providing power to remote locations and keeping your electricity running when the power goes out. However, they can also be incredibly dangerous and lethal in some cases if used incorrectly.
Generators can be life-saving devices, but they require the utmost caution. Using generators inside can quickly build up lethal levels of carbon monoxide, so proper operating knowledge is key. If you're concerned about where you're using a generator, keep a carbon monoxide detector on hand. And if you need further advice about where to place your generator or how to manage exhaust fumes, contact the pros at Electric City.
Keep the generator dry at all times, make sure the generator is grounded, and never overload a generator. You should really only use a portable generator if it's absolutely necessary. Finally, make sure you turn off all appliances connected to the power source before turning off the generator.
Powerlines
If you have powerlines or electrical substations near your patio or anywhere else in your backyard, it's crucial to understand the risks and know how to avoid coming into contact with them.
As a general rule, you should maintain a safe distance from powerlines and make sure nothing you're holding gets caught on or comes into contact with them. This applies to power tools, ladders, vehicles, and toys. If something gets caught on the powerlines, like a kite, always call an electric company to retrieve it instead of attempting to do it yourself.
Be sure that a professional properly trims back trees and other vegetation to keep from coming in contact with any electrical wires. Always call an electrical company first if you see a downed powerline. Coming in contact with a live powerline or utility pole can be extremely dangerous, and it's always better to be safe than sorry.
Extension Cords
Before buying an extension cord, check what type you need. Using outdoor-specific extension cords is essential. These extension cords should be weather-resistant heavy gauge and marked for outdoor use on the label.
Store your extension cords in a dry place, away from any water or snow. Anything that's stored outside is more likely to become damaged due to elements, so always inspect the extension cord for any damage before use. Also, remember that extension cords are for short-term usage and shouldn't be used for more than 24 hours at a time.
Electric City is Keeping Katy, TX Patios Safe for the Summer
Electric City is the best electrical contractor in Katy, TX providing same-day services and reliable care with top-notch products to keep your patio safe throughout summer. Electric City is here to ensure your wiring replacements, whole home generator installations, and emergency electrical services are performed quickly and efficiently.
With just a click or phone call to 832-724-1781, you and your family can have peace of mind knowing your electrical needs are covered. Contact us today and find out how we can help your patio safe this summer.
Contact Electric City for Top-Quality Wiring Repair & Replacement
Electric City is dedicated to providing electrical services of the highest caliber to Katy, TX, so that you can rest assured your home and family are safe. Furthermore, we offer a lifetime guarantee on all our services and workmanship. Electric City is here to make sure you stay safe this summer! Call us at 832-724-1781 and schedule your appointment with one of our professional licensed electricians today.