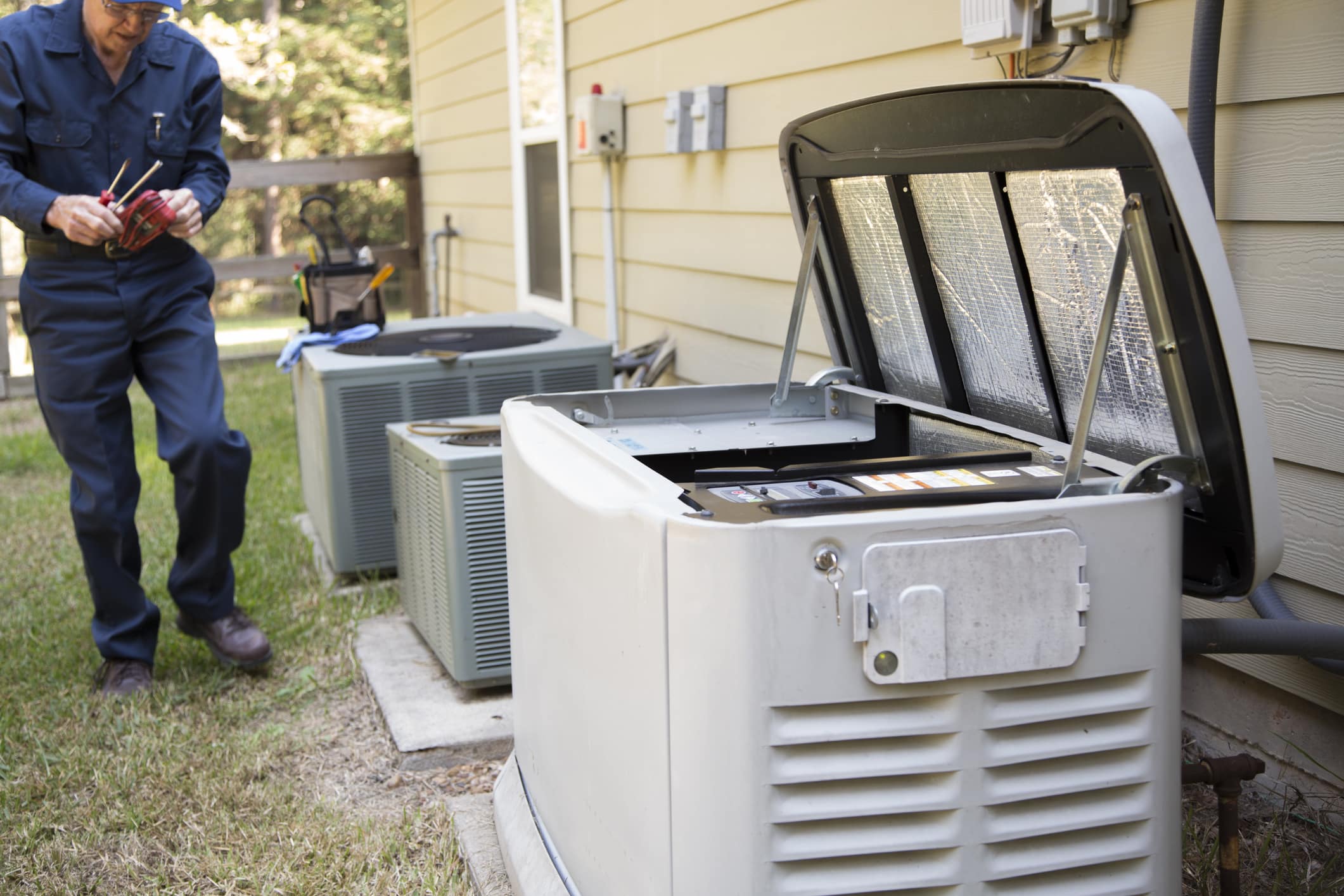 Don't Break Your HVAC – Get Whole Home Generator Services
Winter may be lasting longer than usual this year, but summer will soon be upon us. With spring and summer comes the hot weather that will have us drawing the shades, turning on fans, and kicking our AC units into gear.  
Long-time Katy residents are used to the heat, but that doesn't mean you have to suffer through it. Learn how installing a whole house generator can benefit your home, family, and HVAC system in the long run.
Keep Cool with Whole House Generator Services
How Do I Know if I Need a Generator? 
Living in areas that experience extreme temperatures and weather conditions such as hurricanes or intense, dry heat can make it especially important to have backup power sources. In addition to any seasonal severe storms, these conditions will challenge your local electrical power grid and potentially cause power outages. 
To avoid loss of power, install a whole home generator. If the utility grid shuts down, your whole home backup generator will automatically turn on so your family stays safe and comfortable. 
This is especially important if any of your loved ones rely on electricity for health concerns, such as refrigerated medicines or electrically-powered healthcare devices. Additionally, if you have elderly family members or small children, they can be at greater risk for heatstroke and hyperthermia in the heat. Having a home generator can mitigate these concerns. 
The highly-trained team at Electric City will help you determine the right size generator for your home and HVAC system to ensure proper functionality and transfer switch connectivity.
Think Ahead—Prepare for Summer Before the Heat Hits
The best way to avoid the heat and the problems it causes is to plan ahead. Arranging for home generator services in springtime can prevent a sweaty start to your summer. It will also help protect the integrity of your AC system before temperatures start spiking. 
Limited stock and supply chain issues could interfere with your ability to acquire a generator if you wait too long. Purchasing one before the summer rush hits will ensure your peace of mind, especially with generator installation by the experts at Electric City.
Summer Storms Don't Stand a Chance
Worried about rolling blackouts or power outages due to severe thunderstorms? When the lights go out on your block, your family can continue to enjoy their normal activities without worry if you install a standby generator. 
Carbon Monoxide Safety
Home generators are safe to use outside of the house, but can lead to a dangerous buildup of carbon monoxide when used indoors. Always make sure your generator is not being used near an open window or a vent leading to an enclosed space. 
Having your generator installed by a professional electrician, such as the experts at Electric City, will ensure the most appropriate placement of your generator for the safety of your family and home. Our team can also install carbon monoxide detectors in key locations within your home, just like smoke detectors, for greater protection and security. 
Call Electric City for help with your whole home generator or carbon monoxide detector installations. If you suspect someone has experienced carbon monoxide poisoning, call 911 immediately.*
Thorough, Reliable Service from Electric City
Through all weather, Katy residents can rely on Electric City for electrical work when they need it most. We are dedicated to providing same-day service whenever possible for top-quality care that protects your family and keeps your life running smoothly. We empower homeowners to create safe houses and more comfortable lifestyles with emergency electrical services, outdoor lighting services, and more. Call us today and find out how to prepare your home for summer and outdoor activities. 
Electric City: Top Quality Generator & Electrical Services in Katy, TX
Trust the qualified electricians at Electric City for expert service, year-round. We are a family business and we take pride in ensuring the comfort and safety of our neighbors and customers throughout Katy, TX. The Electric City team ensures exceptional workmanship by using quality products and tools and offering a lifetime warranty on everything we do. Keep your family comfortable and stay ahead of the game with whole home generator installation by Electric City. Call us today at 832-724-1781 to schedule a visit from a team member as soon as possible. 
*The information provided in this article is not intended to serve as medical advice.